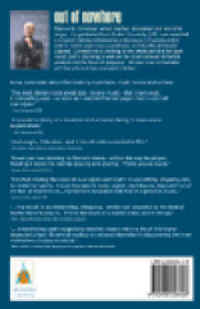 You can always obtain information directly from us:

Aurora Nova Publishing,
PO Box 437,
MAWSON, ACT 2607, AUSTRALIA

"Out of Nowhere"
A novel dedicated to the musical life of Warne Marsh
by Marcus M. Cornelius
Click Here to Order
Some opinions of established musicians who have read the manuscript (names appear on the book):
"The most literate book about jazz that I have read. A compelling read - as soon as I reached the last page I had to start all over again."
"A wonderful study of a musician and a human being. It deserves to be published."
"Just magic. Fabulous. And it would make a wonderful film."
"It was just like listening to Warne's music, written the way he played. Reading it made me feel like playing and playing. Thank you so much."
"It will do even more for Warne Marsh than that book about Parker did for him."
Inspired by the music of Warne Marsh, I was moved to write a book based on his musical life, amazed as I was that his genius was so little known. The work was started in 1987 and finished in 1991. Since then several efforts to publish the book have been made, without success, so I am now very relieved, after ten years of patience, that the book can finally be made available. More people than I can remember have asked for a copy when the book became available, and for them as well as for me, the very long wait is over.
---

Distributed by:

North America:

NorthCountry Distributors
Cadence Building
Redwood, NY 13679 USA
ph: 315-287-2852
fax: 315-287-2860
ISBN 0-9580264-0-8

Continental Europe:

New Think
Turnhoutsebaan 116/15,
2140 BORGERHOUT-ANTWERPEN
BELGIUM
Tel: +32-3-235 1040
Fax: +32-3-220 4039
ISBN 0-9580264-0-8